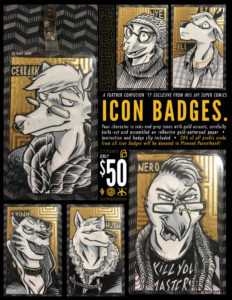 It's been a while since our last fur con, hasn't it? Well, the wait is over.
NEW AND EXCLUSIVE FOR FURTHER CONFUSION 2017 FROM IRIS JAY SUPER COMICS: ICON BADGES!! Yes, after years of experimentation and struggle, we FINALLY figured out how to get real reflective gold foil on a badge!
These things are so fancy they're practically jewelry: Four types of ink on grey-toned paper, knife-cut by hand and assembled on shiny reflective gold-patterned paper! The ideal badge for those who want to give their character a touch of class… or who are just helplessly attracted to shiny things. (IT'S 2017 AND IT'S COOL TO BE SINCERELY INTO SHINY STUFF AGAIN. CALM DOWN NAYSAYERS.) I'm only taking orders for these at FC'17, so once the con ends, that's it!
They're running for $50 each, and we're doing something a little different with these: 20% of all profits will be donated to Planned Parenthood! I've made about seventy billion zillion badges in the nearly 9 years since I started going to furry conventions, I might as well start using them to give something back to a fantastic network of caregivers who need it right now. Get some cool art and help out in the process!
I have juuuust enough time for three pre-orders before the con starts. If you'd like one, hit me up irisjaycomics [at] gmail and I'll have it ready for you by Friday at Further Confusion, table #89! (Or, if you aren't attending, I'll mail yours to you afterwards!)
See you at FC! TIME TO GET EXCITED.